High Street - south
< back to map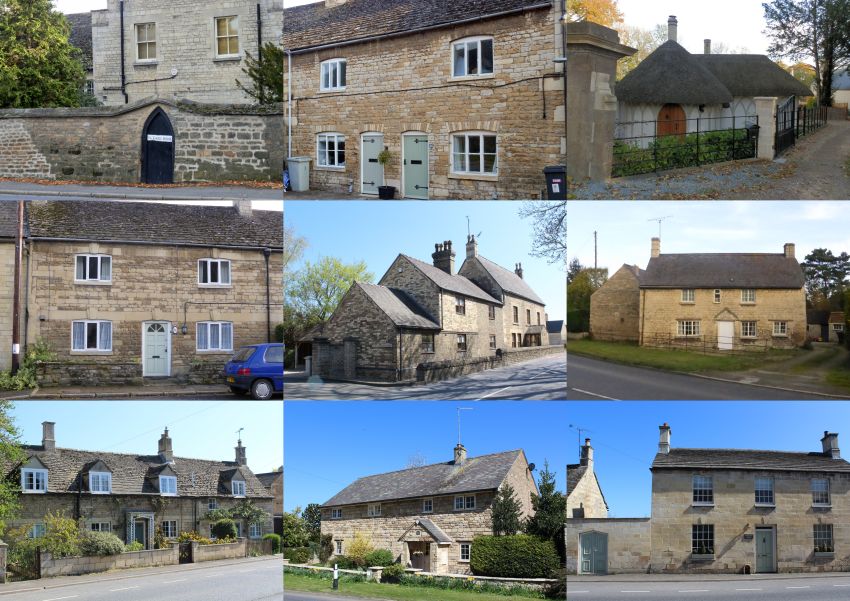 Ketton Grange - see Ketton Grange
19-21 High Street - two Grade II listed cottages, 1689 and C18, with Collyweston stone slate roofs. The stables and outbuilding is also Grade II listed, C18. White-painted wooden bell turret with clock and weathervane. Lower range of outbuildings to right, with end stack and bread oven, also includes granary.
21-23 High Street - The Limes - Miss Stangar was living there at least from at least 1916 until she sold it in 1935
25 High Street - Rutland House - C17 in origin. The wall to Rutland House is also Grade II listed, C18 or early C19, pierced by an arched doorway.
27 + 29 High Street - No 27 is C17 in origin, No 29 is C19 in origin
31 High Street - The Old White Hart - Grade II listed house, dated 1848. The pub closed in 1910.
33 High Street - Manor Farmhouse - C17 farmhouse, possibly earlier core. This is one of the oldest buildings in the village. It is reputed to have a ghost that walks down the steps to the dovecote on Christmas eve.
35 + 37 High Street - pair of houses, late C18 or early C19.
39 + 41 High Street - pair of cottages, early C19 (but with earlier origin - 1st floor of buildings to either side overlaps slightly).
43 + 45 + 47 High Street - constructed around 1780. No 47 has the original 18 pane sash windows with internal shutters. No 45 was possibly the Stamford Arms pub. No 43 was formerly Jacksons Store newsagents
45 + 47 High Street - two Grade II listed houses, late C18.
49 High Street - this used to be a saddlers shop, and was later a garage. The wing behind of one storey has the remains of painted lettering reading "CLOSE HARNESS MAKER".
55 High Street - early C19 cottage with Welsh slate roof. Grade II listed
61 High Street - Long Barn - John Stangar lived here in 1740 and held cockfights
63 High Street - Ketton Club - originally a farm barn belonging to Nutt's farm. After WW1, it was bought by the villagers as a Village Hall. In the 1920s it became the Ketton Village Men's Club.
65 High Street - Old Blue Bell Inn - the pub closed in 1945. Near here was a quoit bed.
Ketton School and Library - in 1791 Miss Sophia Elizabeth Edwards left money in her will to be used "for poor female children of the parish" but it was not until 1829 that this was actioned and son afterwards a small Dame School was set up. In 1846 a National School for boys and girls was established, being endowed from Miss Edwards Charity. Later in 1857, a new, larger "National School and Miss Edward's School" was built. The present school was built on pasture belonging to Mr Lilley, being started in 1965 with additions up to 1971. In 1972 the old National School building was demolished and the present library opened in 1974. See Education in Ketton
67 High Street - The Old School House - early C19. This was originally Miss Edward's Dame School, then the headmaster's residence.