Gentry families in Ketton
Baldwin Family
Air Marshall Sir John "Jack" Baldwin & his wife Kathleen lived at Ketton Hall in the 1930s, 1940s and 1950s
Air Marshal Sir John "Jack" Eustace Arthur Baldwin
KBE CB DSO DL JP b. 1892 Halifax, Yorkshire d. 1975 Rutland. Educated at Rugby School and the Royal Military College, Sandhurst, Baldwin was commissioned into the 8th Hussars in 1912. In World War 1 he was seconded into the Royal Flying Corps and in 1920 he left the regiment to join the RAF. He reached the rank of Air Marshal and was appointed Colonel of the 8th King's Royal Irish Hussars in 1948 until he retired in 1958. In 1955 he was the High Sheriff of Rutland.
married 1916 York
Kathleen Betsy Terry
b. 1891 York d. 1979 Kent - the granddaughter of Sir Joseph Terry, founder of Terry's confectionery company in York
Children:
Captain John Noel Anthony Baldwin - b. 1917 York d. 1942 WW2 in action at Bir Hacheim, Libya.
Pamela Mia Beatrice Baldwin - b. 1919 Uxbridge d. 2011 Florida
Burroughes Family
Thomas Henry Burroughes and his family moved to Ketton in the 1850s
Thomas Henry Burroughes
b. 1834 Norfolk m1. Edith Galfrida Powys d. 1924 Wroxham, Norfolk. Thomas was the High Sheriff of Rutland in 1904. Educated at Harrow and Trinity College, Cambridge. Thomas was a land agent and surveyor and was the church warden at Ketton and played a prominent part of the restoration of the church in 1861-3. He was a prominent horticulturalist who laid out parkland each side of Church Road from the river to the station and planted many interesting trees in Ketton, including a notable Davidia (handkerchief) tree. The Burroughes family installed the stained glass windows in the east end of the chancel and at the east end of the south wall. They also provided for the installation of a new altar in the chancel. The Cottage had the first proper water supply in Ketton in 1907. In 1984 The Cottage became a retirement home until 2000 when it was sold as a private house again. It has since been renamed Aldgate Lodge.
His sister-in-law Georgiana Caroline Powys married John Nicholas Fazakerley who briefly lived at Ketton Hall in 1860s.
His second cousin was Rev. William Hulton whose children were living at Ketton Priory in the 1901 census.
Thomas Burroughes and his family moved to Ketton in the 1850s. His father Rev. Jeremiah Burroughes was born at the family seat Burlingham Hall in Norfolk. His sister Jane Mary Burroughes, his aunt Mary Burroughes and his uncle Henry Negus Burroughes all married into the Hoste family of Norfolk, a wealthy land-owning family who had owned Sandringham Hall since 1686.
Thomas's mother Pleasance Preston was the daughter of Sir Thomas Hulton Preston, 1st Baronet of Beeston St Lawrence, and Jane Bagge. The Preston family seat was Beeston Hall, Norfolk. The Bagge family seat was Gaywood Hall, Norfolk.
married 1869 London
Susan Helen Russell
b. 1847 London d. 1915 Ketton
Children:
Isabel Clare Burroughes b. 1872 Ketton m. John Calthorpe Blofeld d. 1968 Norfolk
Dorothea Burroughes b. 1873 Ketton m. Brigadier-General Reginald St George Gorton d. 1958 Ketton Priory. They had no children. Since at least 1942 Dorothea and her husband lived at The Priory in Ketton where she died.
Charles Fitzpatrick Burroughes b. 1874 Ketton m. Katy Molineux-Montgomerie d. 1945 Ketton
Henry Neville Burroughes b. 1877 Ketton d. 1979 Salisbury. Physician
Cayley Family
Banker George Cayley and his wife Margaret were living in The Priory in Ketton in the 1891 census.
George Cayley
b. 1831 Stamford d. 1891 Stamford. George's father, Edward, co-founded the Eaton, Cayley & Co Bank in Stamford in 1800. The bank amalgamated with the Stamford, Spalding and Boston Banking Co in 1891 and then amalgamated with Barclays Bank in 1911. At Christmas 1890, the Cayley family gave coal to the poor of Ketton.
married 1859 Truro (they were first cousins)
Margaret Paul
b. 1828 Berkshire d. 1899 Stamford. Margaret's father was the Venerable Robert Bateman Paul. He emigrated to New Zealand in 1851 where he was an archdeacon but returned to England in 1860 where he became the rector of St Mary's Church in Stamford, prebendary of Lincoln Cathedral, then Confrater of Browne's Hospital in Stamford.
Children (living in Ketton in the 1891 census only):
Rosa Elizabeth Cayley b. 1862 Stamford d. 1940 Surrey, unmarried
Nowell Paul Cayley b. 1866 Stamford m. his first cousin Gertrude Cayley d. 1928 Hampshire.
Ida Mary Cayley b. 1869 Stamford d. 1951 Surrey, unmarried
Helen Maria Cayley b. 1871 Stamford d. 1943 Surrey, unmarried
Cecil Family
William Alleyne Cecil, 3rd Marquess of Exeter, and his wife Georgiana lived at Ketton Hall in the mid 1850s
Lord William Alleyne Cecil
b. 1825 Hyde Park, London d. 1895 Burghley House, Stamford. MP for South Lincolnshire 1847-1857, then MP for North Northamptonshire 1857-1867
married 1848 London
Lady Georgiana Sophia Pakenham
b. 1828 Dublin, Ireland d. 1909 Burghley House, Stamford.
Children (born at Ketton only):
Isabella Georgiana Katherine Cecil b. 1854 Ketton Hall m. William Henry Battie-Wrightson (landowner and Whig politician) d. 1917 Burghley House, Stamford
Coventry Family
Henry Coventry and his wife Margaret (daughter of the vicar of Ketton, John Henry Noyes) lived in Ketton in the 1890s, 1900s and 1910s
Lt Henry Adam Frederick Fergusson Coventry
b. 1843 Edinburgh d. 1900 Ketton. Henry's sister Mary married John Turner Hopwood MP and lived at Ketton Hall from 1877 until her death in 1894. Henry Coventry died in Ketton 10 days after his brother-in-law John Hopwood's death in Ketton – it was believed Henry contracted a cold at John's funeral.
Henry and Mary's grandfather was the 8th Earl of Coventry. Their grandmother was Lady Mary Beauclerk who was the great great granddaughter of Charles Beauclerk, 1st Duke of Albans, an illegitimate son of King Charles II and Nell Gwynne.
married 1889 Ketton St Mary's
Margaret Blencowe Noyes
b. 1853 Stamford d. 1935 Wiltshire. Margaret's father was Rev. John Henry Noyes, who was vicar of Ketton from 1855 until his death in 1888. Margaret was Superintendent of the Ketton Parish Church Sunday School. Margaret left Ketton in 1920 and lived in Eaton Terrace, Knightsbridge.
They had no children
Eaton Family
Bank manager Stephen Eaton and his wife Charlotte were living at Ketton Hall from at least 1822 until the 1850's. Stephen's grandson Hubert Francis Joseph Eaton lived at Ketton Grange with his wife and children between at least 1901 and 1911.
Stephen Eaton
b. 1780 Stamford d. 1834 Ketton Hall. Stephen co-founded the Eaton, Cayley & Co. bank in Stamford in 1800 – it was eventually amalgamated into Barclays Bank in 1911. In the 1850s the Eaton family moved to Tixover Hall and then in the 1860s they bought Tolethorpe Hall where it remained in the family until 1967.
married 1822 (Stephen was living at Ketton Hall at this time)
Charlotte Anne Waldie
b. 1788 Newcastle upon Tyne d. 1859 Tixover Hall. English travel writer, memoirist and novelist. She was in Brussels during the Waterloo conflict and published her account "Waterloo days : the narrative of an Englishwoman resident at Brussels in June 1815" in 1817. She also published a book about "Rome in the 19th century" in 1820 and about "Continental Adventures" in 1826.
Children:
Stephen William Eaton b. 1824 Ketton Hall d. 1825 Piccadilly, London, aged 16 months
Charlotte Eaton b. 1825 Ketton Hall d. 1882 Torquay.
Charles Ormston Eaton b. 1827 Ketton Hall m. Elizabeth Jane Hedley d. 1907 Tolethorpe Hall. Bank manager at the family bank in Stamford. Charles played cricket for Harrow Eleven in 1844 and 1845 and for Marylebone Cricket Club between 1849 and 1853. In 1864 he was the High Sheriff of Rutland.
Children:

Hubert Francis Joseph Eaton b. 1864 Kensington London d. 1910 Ketton Grange. Bank manager at the family bank in Stamford. Hubert played cricket for Cambridge University in 1885 and Marylebone Cricket Club between 1887 and 1894. In 1906 he was the High Sheriff of Rutland.
married 1894 Chelsea, London
Evelyn Mary Campbell b. 1875 Northamptonshire d. 1963 Dorset. Her grandfather was the Viscount Barrington. In 1922, Evelyn married Henry Furse of Devon.
Children:

George Hubert Eaton b. 1895 Tolethorpe Hall d. 1918 Stevenage WW1
Sybil Evelyn Eaton b. 1897 Ketton d. 1989 Chelsea, London, unmarried, aged 92. Violinist. Sybil performed at the 1917, 1919, 1925 and 1926 Proms. In 1918 she performed at 10 Downing Street at a concert hosted by Margaret Lloyd George. In 1919 she performed in the music room at Ketton Hall with Malcolm Sargent to raise money for the Ketton Boy Scouts Fund. In 1926, on Armistice Day, she gave a grand organ and violin recital with Mr Norman Greenwood in Ketton. In 1937, she was one of only two ladies to play in the orchestra at Westminster Abbey for the Coronation of King George VI
Rosemary Alice Eaton b. 1901 Ketton m. James Walston Young
Elizabeth Margaret Eaton b. 1907 Ketton

John Richard Eaton b. 1829 Ketton Hall m. Marie Isabella Henrietta Kennaird (from Edinburgh). Law barrister.
Georgiana Elizabeth Eaton b. 1831 Ketton Hall m. Richard Westbook Lamb (at St Peter's, Rome) d. 1868 Nice, France
Marie Georgiana Lamb b. 1856 Paris, France m. Arthur French (4th Baron de Freyne of Coolavin) d. 1923
Elwes Family
Miss Mary Elizabeth Evelyn lived at Spring House, 10 Bull Lane from at least 1891 until she died there in 1940
Mary Elwes
was a descendent of the Cary-Elwes family which included British monks and bishops – some branches of the family are just known as Elwes. The Elwes Baronetcy was created in 1660 for Gervase Elwes, MP for Sudbury in Suffolk. His nephew was John Elwes (1714-1789), an MP known as "Elwes the Miser" and was suggested to be the inspiration for the character of Ebenezer Scrooge. Dickens made reference to Elwes some years later in his last novel, Our Mutual Friend.
Mary had a brother and nephew called Gervase. A different Gervase Cary-Elwes (1866-1921), was an English tenor of great distinction. His son was Simon Elwes, a society portrait painter, said to be a favourite of the Queen Mother. Simon's son Dominick was also a society portrait painter and a key member of Mayfair's Clermont set (with Sir James Goldsmith and Clermont Club owner John Aspinall). He was a close friend of Lord Lucan.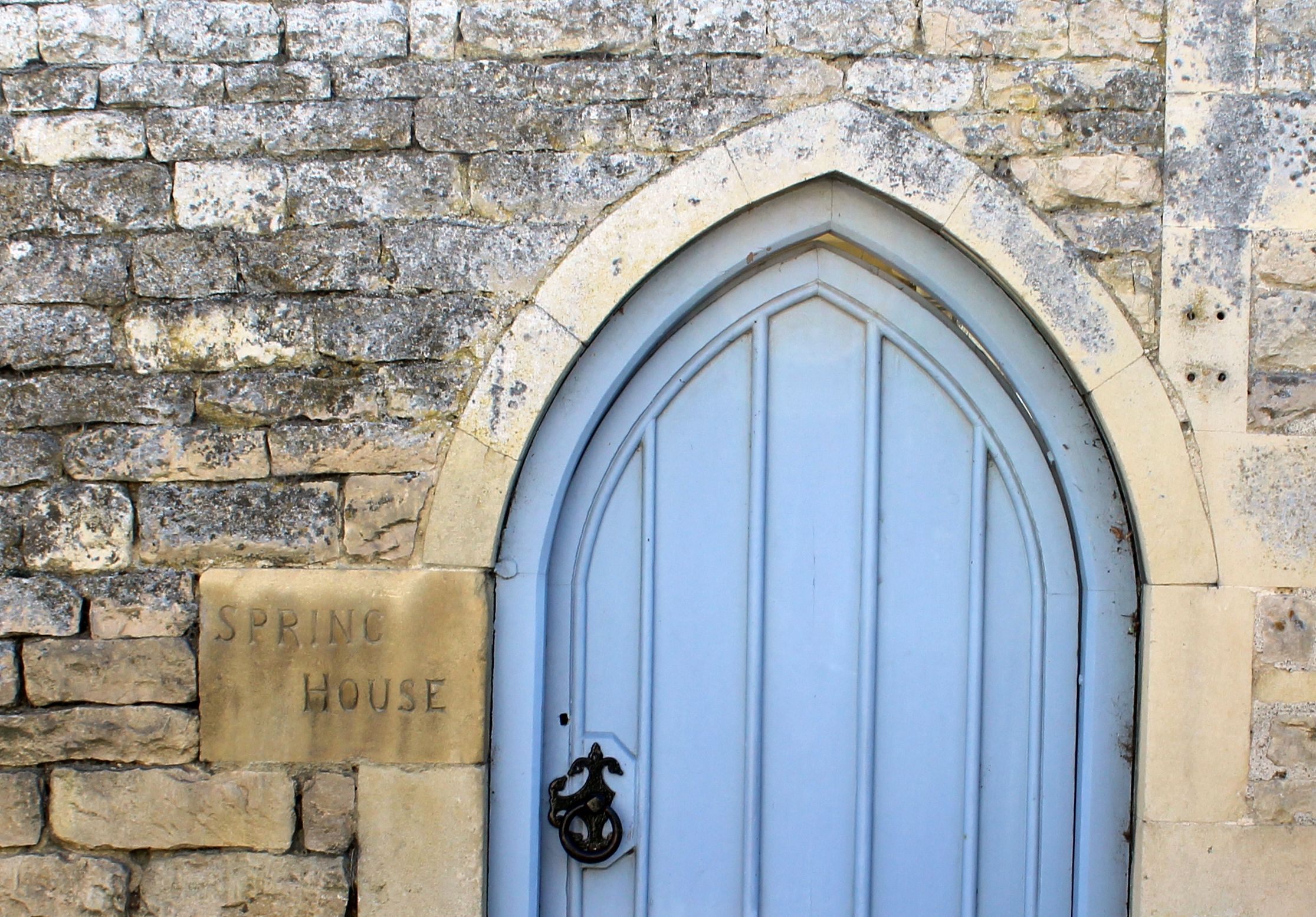 Grantham Family
Charles and Emily-Grace Grantham lived at Ketton Grange from at least 1841 until Emily died there in 1864
Capt. Charles Grantham
b. 1790 Louth Lincolnshire d. 1859 Ketton Grange. He was a Captain in the Royal Navy. In 1844 he was the High Sheriff of Rutland. His father Thomas Bennett Grantham died in 1819 at Ketton Grange and his mother Margaret (from Ireland, née Webber) died in 1842 at Ketton Grange.
married 1811 Ketton St Mary's
The Honourable Emily-Grace Fortescue
b. 1781 Ireland d. 1864 Ketton. Her father was an Irish MP and her brother was the 2nd Viscount Clermont.
They had no children
1839
Whereas last night, the 10th inst., some person or persons did feloniously enter the dwelling-house of Mrs Grantham, at Ketton, in the county of Rutland and steal there from between 20 and 30 sovereigns, and two £5 notes of Messrs. Eaton, Cayley and Michelson's Stamford Bank. Notice is hereby given, that whoever will give such information as may lead to the apprehension and conviction of the offender or offenders, shall receive the above Reward on application to Thomas Hippisley Jackson, Esq. solicitor, or William Reed, Chief Constable, Stamford. Ketton, 11th September 1839. In the event of an accomplice giving information, every exertion will be made to obtain her Majesty's pardon in his behalf. A man, having the appearance of a sailor, who called twice at the house to ask relief, is suspected of being one of the party. He stands about 5ft 6 or 7in high without shoes or stockings, no neckerchief and his breast bare; has been loitering about Ketton for some days past.
Grosvenor Family
Lord Henry Grosvenor was staying at The Cottage in Aldgate in the 1891 census
Lord Henry George Grosvenor
b. 1861 Westminster, London m2. Rosamund Angharad Lloyd d. 1914 Leicestershire. His father was the 1st Duke of Westminster.
married 1887 London
Dora Mina Erskine-Wemyss
b. 1856 Fife, Scotland d. 1894 Chester, Cheshire.
Children
Millicent Constance Grosvenor b. 1889 m1. William Molyneux Clarke m2. Captain Frank Billinge m3. Major John Findley Dew d. 1944
Dorothy Alice Margaret Augusta Grosvenor b. 1890 Stamford m1. Albert Edward Harry Mayer Archibald "Harry " Primrose, the 6th Earl of Rosebury. Divorced. m2. Captain Robert Bingham Brassey. Divorced. m3. Chetwode Charles Hamilton Hilton-Green. Divorced. m4. Commander Richard Herbert Mack. d. 1966
Millicent and Dorothy were both living at The Cottage in 1891 – they a brother born a few years later
William Grosvenor, 3rd Duke of Westminster b. 1894 d. 1963. Brain-damaged at birth, he lived with his stepmother Rosamund in a small house in the south of England. After her death he lived in a house in Bath with a carer. He died unmarried. The Dukedom passed to his cousin Colonel Gerald Grosvenor (4th Duke of Westminster) and then onto another cousin Lt. Col. Robert Grosvenor (5th Duke of Westminster, 1910-1979, father of Gerald the current 6th Duke) who in the 1970s was the richest man in Britain.
Harrisson Family
The widowed Matilda Harrisson moved from Tolethorpe Hall to Ketton Hall in 1866 and lived there with some of her children until her death in 1894.
Everson Harrisson
b. 1796 Lincolnshire d. 1864 Tolethorpe Hall. His family owned Tolethorpe Hall until it was sold to the Eaton family soon after Everson died there in 1864.
married 1824 Horncastle, Lincolnshire
Matilda Millns
b. 1800 Horncastle Lincolnshire d. 1894 Ketton Grange, aged 94.
Children:
Charles Millns Harrisson - b. 1826 Tolethorpe Hall m. Belinda O'Brien d. 1901 Easton (on the Hill) Hall
Mary Katherine Harrisson - b. 1827 Tolethorpe Hall m. Henry Francis Brouncker d. 1874 Hampshire
Francis Joseph Harrisson - b. 1830 Tolethorpe Hall d. 1854 Varna, Bulgaria (Crimean War, died of dysentery)
George Augustus Harrisson - b. 1832 Tolethorpe Hall d. 1832 Tolethorpe Hall
Arthur Everson Harrisson - b. 1835 Tolethorpe Hall d. 1910 Easton (on the Hill) Hall
George Alexander Harrisson - b. 1835 Tolethorpe Hall m. Emily Jane Monckton (daughter of Edward Henry Cradock Monckton of Fineshade Abbey) d. 1899 Kensington, London
Elizabeth Matilda Harrisson - b. 1839 Tolethorpe Hall d. 1914 Easton (on the Hill) Hall
Henry Albert Harrisson - b. 1841 Tolethorpe Hall m. Elizabeth Sharp d. 1910 Marylebone, London
Heathcote Family/Lord Aveland
In 1782 Francis Wotton sold Kilthorpe Hall to Sir Gilbert Heathcote and it stayed in that family until the beginning of the 20th century.
Gilbert John Heathcote
, 5th Baronet b. 1795 Marylebone, London m. Clementina Drummond-Burrell (dau. of the 22nd Baron Willoughby) d. 1867 Belgravia, London. MP for Boston 1820-1832, MP for Lincolnshire South from 1832-1841, MP for Rutland from 1841-1856. He was succeeded by his son Gilbert.
Gilbert Henry Heathcote-Drummond-Willoughby, 6th Baronet b. 1830 Marylebone, London m. Lady Evelyn Elizabeth Gordon d. 1910 Grimsthorpe Castle, Lincolnshire. He was succeeded by his son Gilbert.

Gilbert Heathcote-Drummond-Willoughby, 2nd Earl of Ancaster b. 1867 London m. Eloise Lawrence Breese d. 1951 Grimsthorpe Castle, Lincolnshire. He was succeeded by his son Gilbert.

Gilbert James Heathcote-Drummond-Willoughby, 3rd Earl of Ancaster b. 1907 Mayfair, London m. Nancy Astor (daughter of Waldorf Astor MP and Hon Nancy Astor MP) d. 1983 Grimsthorpe Castle, Lincolnshire. On his death, the Earldom of Ancaster and the Barony of Aveland became extinct.

Lady Nancy "Jane " Heathcote-Drummond-Willoughby, 28th Baroness Willoughby b. 1934. She was one of six Maids of Honour at the 1953 coronation of Queen Elizabeth II. The current owner of Grimsthorpe Castle.
Hollins Family
Richard and his son Richard Hollins lived at Ketton Hall in the 1901 census – his other son Percy lived alone there in the 1911 census
Richard Roger Hollins
b. 1849 Liverpool d. 1939 South Africa. Richard worked as a merchant at a South African goldmine. In 1905 he was the High Sheriff of Rutland.
married 1878
Rebecca Sarah Wallis
b. 1854 d. 1914 Cape Town, South Africa
Children:
Constance Merlyn Ethel Hollins - b. South Africa? m. Stuart Graham Wallace (from South Africa) in 1910 in Ketton
Richard R Hollins - b. 1886 United States
Percy Ryder Hollins - b. 1891 Johannesburg, South Africa m. Marie Hallberg Hodges (from Chicago) d. 1977 Oxfordshire. In the 1911 census, Percy was aged 18, a law student, and the head of the household at Ketton Hall on the night of the census. In 1912 Percy was appointed a Commissioner for the recruitment and regulation of labour in the Colony and Protectorate of Kenya.
Hopwood Family
John Turner Hopwood MP and his wife Mary Augusta Henrietta lived at Ketton Hall from 1877 until John's death in 1900
John Turner Hopwood
b. 1827 Blackburn, Lancashire d. 1900 Ketton Hall. John was an English Liberal Party politician, music publisher and barrister. He commissioned celebrated French organ builder Cavaillé-Coll to build him a pipe organ. Once it had been built in 1870 in a Paris workshop hall, Camille Saint-Saëns was one of the first people to play it. The organ was installed in Ketton Hall in 1883 (it is now in Parr Hall, Warrington). It 1877 he was the High Sheriff of Rutland.
married 1858 Edinburgh
Mary Augusta Henrietta Coventry
b. 1841 Berwick upon Tweed d. 1894 Wandsworth, London Mary was the granddaughter of the 8th Earl of Coventry. Her brother Henry Coventry lived in Ketton in the 1890s with his wife Margaret (daughter of the Vicar of Ketton) and died there in 1900.
Mary died on a visit to a friend in Wandsworth, London, where she was seized with apoplexy. She died before her family arrived from Ketton. "She was deeply interested in all social, philanthropic, and religious work in the neighbourhood. She had a mission room in Ketton and regularly held mothers ' meetings and gatherings of a similar nature up to the winter of 1893 when she had to abandon the work she had so much at heart. A telegram containing news of Mrs Hopwood's death arrived during Ketton 's annual flower show, being held at the time in the grounds of Ketton Hall. News of Mrs Hopwood's death caused deep sorrow throughout the village and the committee at once decided to close the exhibition as a mark of respect".
Children:
Robert Coventry de Vere Hopwood - b. 1859 Scotland
Mary Katherine Hopwood - b. 1861 Scotland m. Rev Charles Edward Ellwood d. 1950 Chichester
Henry Aubrey Hopwood - b. 1863 Scotland d. 1917 York. Novelist who co-wrote the lyrics for several musical comedies
Evelyn Elizabeth Hopwood - b. 1865 Scotland m. James Charles Wardrop d. 1888
Eleanor Hopwood - b. 1867 London
Ronald Arthur Hopwood - b. 1868 Scotland d. 1949 London. Ronald was referred to as the "poet laureate " of the Royal Navy by Time Magazine
Herbert Reginald Hopwood - b. 1871 Scotland d. 1938 London
Ernest Hopwood - b. 1875 Scotland d. 1929 Fife, Scotland
John Cyril Hopwood - b. 1880 Scotland
Hulton Family
Three siblings Henry, Margaret and Violet Hulton were staying at The Priory, Ketton in the 1901 census
Rev. William Hulton
b. 1843 Southampton d. 1885 Paddington, London. William was the second cousin of Thomas Henry Burroughes of The Cottage in Ketton.
married 1874 Walpole St Peter, Norfolk
Philippa Caroline Henrietta Bagge
b. 1854 Hastings, Sussex d. 1934 Eastbourne. Philippa was visiting her sister Grace Bagge in Belgravia, London at the time of the 1901 census. The Bagge family seat was Gaywood Hall near King's Lynn, Norfolk.
Children
Margaret Stephanie Hulton - b. 1876 d. 1950 Eastbourne, unmarried
Violet Gertrude Hulton - b. 1878 Paddington m. architect Henry Beckwith d. 1952 Liverpool
Henry Horne Hulton - b. 1882 Paddington m. Isabel Hope Millicent Jackson d. 1940 Jersey. Lieutenant in the army.
Leslie-Melville Family
Hon. Norman Leslie-Melville and his wife Georgina were living at The Cottage in Ketton in the 1881 census. His first cousin was Robert Ruthvyn Pym whose daughter Etheldred Tweddell moved to Ketton Priory in 1904.
Hon. Norman Leslie-Melville
b. 1839 Roehampton d. 1923 Kensington. His father was the 9th Earl of Leven. His elder brother Ronald Ruthven Leslie-Melville was the 11th Earl of Leven - also the Director of the Peninsular and Oriental (P&O) Steam Navigation Company and Director of the Bank of England.
married 1861 London
Georgina Ball
b. 1839 Dublin, Ireland d. 1922 Kensington, London
Children
Galfrid John Leslie-Melville - b. 1863 Brighton d. 1910
Kathleen Mabel Leslie-Melville - b. 1868 Brighton
Lyster Family
Thomas Rice Somerville Lyster, his wife Eva Marianna and their son Osbaldeston Rice Lyster lived at Ketton Priory from at least 1895 until 1904 when it was bought by Mrs Tweddell.
Thomas Rice Somerville Lyster
b. 1855 St Peter Port, Guernsey d. 1897 Ketton. Estate Agent. His father George Fosbery Lyster (1821-1899) was from Ireland and was Engineer in Chief to the Mersey Docks and Harbour Board, the best-paid salaried engineering post in the country, and was responsible for building many of the docks around Liverpool and Birkenhead. His mother, Martha Eliza Sanderson, was born in Antigua, West Indies.
married 1885 Thorney, Cambs
Eva Mariana Ward
b. 1857 Slough d. 1913 St Pancras, London
Children
Osbaldeston Rice Lyster - b. 1890 Thorney, Cambs m. Violet Eva Goodeve (daughter of a Ceylon coffee planter) d. 1956 Cheltenham.
Maitland Family
Coventry Makgill-Crichton-Maitland and his wife Alice lived at Ketton Grange from 1913 until 1931
Commander Coventry Makgill-Crichton-Maitland
b. 1877 London d. 1958 Witham on the Hill. His surname comes from an 18th century marriage between Royal Navy captain Hon. Frederick Maitland, and an heiress of Clan Makgill of Rankeilour, Fife. Their grandson David inherited the Crichton viscountcy and assumed the surname Makgill-Crichton-Maitland. Coventry was the maiden name of his paternal grandmother. The Maitlands moved from Ketton Grange to Witham Hall in 1931.
married 1902 Chelsea, London
Alice Mary Birch Reynardson
b. 1877 Kensington, London d. 1965 Buckinghamshire
Children
Henry David Makgill-Crichton-Maitland - b. 1904 London m. Barbara Armytage d. 1970 Lambeth, London
Jean Makgill-Crichton-Maitland - b. 1907 Hampshire m. Air Commodore James Silvester d. 1989
Noel Family
Various members of the Noel family lived in Ketton from 1786 until at least 1860s
Baptist Noel MP
, 4th Earl of Gainsborough b. 1708 Exton d. 1751 Exton
married 1728
Elizabeth Chapman
b. 1708 d. 1771
Children:
Lady Jane Noel b. 1734 Exton d. 1811 Ketton Hall. Lived at Ketton Hall from 1786 until her death. married 1754
Gerard Anne Edwards b. 1734 Leics d. 1773. Gerard was the illegitimate son of Scottish nobleman, Lord Anne Hamilton, who was named for his godmother, Queen Anne.
Children:

Anna Margaretta Edwards b. 1755 d. 1807 Ketton Hall. Lived at Ketton Hall from 1786 until her death.
Sir Gerard Noel Edwards b. 1759 Tickencote d. 1838 Exton. Changed his name to Gerard Noel Noel in 1798. MP for Rutland 1788-1838. Gerard bought Ketton Hall in 1786, aged 27, and lived there with his wife Diana, his son Charles, his widowed mother Lady Jane and his sisters Sophia Elizabeth and Anna Margaretta.
married 1780
Diana Middleton b. 1762 Kent d. 1823 Swansea, Wales
Children

Charles Noel Edwards, 1st Earl of Gainsborough b. 1781 Kent m1. Elizabeth Welman m2. Elizabeth Grey m3. Arabella Hamlyn-Williams m4. Frances Jocelyn d. 1866 London. Changed his name to Charles Noel Noel in 1798.

Charles George Noel MP, 2nd Earl of Gainsborough b. 1818 Edinburgh d. 1881 Tottenham Court Road, London.
Hon. Henry Lewis Noel b. 1824 d. 1898. In 1863 he was the High Sheriff of Rutland.
In 1860 he addressed a circular to several of the inhabitants of Aldgate, Ketton, endeavouring to move them to temperate habits:
"My dear friend – since I first came to live at Ketton I have been in the habit of making you a small present of coal or flannel at Christmas, but I write this to tell you that I do not intent to give away any flannel or coal at all in Aldgate next Christmas; but as I wish to do you real good, I am going to make you an offer. I on my part will make you next Christmas a present of ten shillings, if you on your part will not go inside a public-house from the day I leave this letter at your house until next Christmas-day. I shall then go to your home and ask you, upon your word of honour as an Englishman, whether you have been inside a public-house or not since you got this letter? If you tell me you have not been inside a public-house you will be entitled to draw of me 10s; but if you have been inside a public house, then I give you my word of honour as an Englishman. I shall keep the 10s you might otherwise have claimed of me buttoned up in my own pocket.
I remain your friend, Henry Noel.

Hon. William Middleton Noel MP b. 1789 Ketton Hall d. 1859 Exton Hall. MP for Rutland in 1838. In 1850 he was the High Sheriff of Rutland.

Sophia Elizabeth Edwards b. 1769 Rutland d. 1794 Exton Hall. Lived at Ketton Hall from 1786 until her death. Sophia was living at Ketton Hall at the time of her death but died at Exton Hall whilst visiting her uncle, the 5th Earl of Gainsborough. In her will she left money to establish a school in Ketton "to promote religion, morality and industry amongst the poor"

Baptist Noel, 5th Earl of Gainsborough - b. 1740 Exton d. 1759 Geneva, Switzerland (no issue)
Henry Noel, 6th Earl of Gainsborough - b. 1743 Exton d. 1798 (no issue). The first creation of the title Earl of Gainsborough became extinct on Henry's death. The second creation began in 1841 with his great-nephew Charles Noel.
Northwick/Rushout Family – Lords of the manor
The Northwick family owned the title of Lords of the Manor from at least 1711 until 1912
Rt. Hon. Sir John Rushout MP, 4th Baronet b. 1685 m. Lady Anne Compton d. 1775. John was the MP for Evesham and Malmesbury. He was also Treasurer of the Navy. He was succeeded in the barony and manors by his son John.

John Rushout MP, 1st Baron Northwick of Northwick Park, b. 1738 m. Rebecca Bowles d. 1800. John was MP for Evesham. He was succeeded in the barony and manors by his son John.

John Rushout, 2nd Baron Northwick of Northwick Park, b. 1770 d. 1859. English peer, landowner and collector of art works. Unmarried and no issue, he was succeeded in the barony and manors by his nephew George.

George Rushout-Bowles MP, 3rd Baron Northwick of Northwick Park, b. 1811 m. Hon. Elizabeth Augusta Bateman-Hanbury d. 1887. George was MP for Evesham.
The baronetcy became extinct when George died childless in 1887. His widow Elizabeth continued to hold the manors until her death in 1912, when they passed to her grandson (from her first marriage) Edward George Spencer-Churchill (1876-1964, 6th Duke of Marlborough, great grandfather of Sir Winston Churchill).
In 1921, Ketton Cement Company bought 1,174 acres of Ketton land including the site of the Cement works and Ketton Stone, most of the quarry and four farms from Captain Spencer-Churchill.
1888, Stamford Mercury
Sowerby Family
George Sowerby and his wife Ann lived at Ketton Hall from at least 1837 until 1848
George Sowerby
b. 1794 London d. 1868 Putteridge, Bedfordshire. George was opposed to the railway coming to Ketton which was to run within 200 yards of Ketton Hall. His petition was presented in the House of Lords in 1845. In September 1848, four months after the railway opened at Ketton, he sold Ketton Hall to Lord Burghley. George moved to Putteridge Bury in Bedfordshire where he was killed by an Egyptian stag in the park there in 1888.
married 1830
Ann
b. 1806 Yorkshire
Children:
George Sowerby - b. 1832 Ketton Hall
Frances Elizabeth Catherine Sowerby - b. 1835 Offley, Herts d. 1901 Denbighshire, Wales
Mary Ann Johnson Sowerby - b. 1837 Ketton Hall m. Edward Headlam
Thomas Charles Johnson Sowerby - b. 1838 Ketton Hall m. Juliana Cecilia Wilson d. 1890 County Durham
Thompson Family
Cotton and his wife Frances and their spinster daughter Frances lived at Ketton Priory from at least 1841 until 1877 (possibly Cotton's father was living there in 1791)
Cotton Thompson
b. 1754 Boston, Lincs d. 1835 Ketton Priory. In the south aisle of St Mary's Church is a monument on the wall to Cotton Thompson Esq [a chevron between three banks of cotton. Crest, a lion rampant]. In 1803 he was the High Sheriff of Rutland. Cotton's father was Thomas Kerchever Cotton Thompson who was born in 1731 in Boston, Lincs and died in 1791 at Ketton Priory.
married
Frances Wingfield
b. 1766 Market Overton d. 1852 Ketton Priory. Her father was Rev. John Wingfield – the Wingfield's family seat was Tickencote Hall which was built in 1705 and demolished in 1950. The widowed Frances lived at Ketton Priory with their daughter Frances in the 1841 and 1851 censuses. After her death, their daughter Frances continued to live there alone until her death in 1877.
Children:
Frances Thompson b. 1797 Easton-on-the-Hill d. 1877 Ketton Priory, aged 80
Tweddell Family
The widowed Etheldred Tweddell and her children lived at Ketton Priory from 1904 until at least 1913
Reverend Marshall Tweddell
b. 1846 South Shields d. 1904 Barnack Rectory, Northamptonshire. Marshall was the vicar of St Saviour's Church in Paddington, London. He published a book in 1890 called "The Soul in Conflict: a practical examination of some difficulties and duties of the spiritual life" and another book in 1897 called "Fourteen years in a London parish: A memoir of St Saviour's Paddington". Marshall's father was a ship-owner from South Shields.
married 1876 Westminster, London
Etheldred Cecil Pym
b. 1858 Tottenham, London d. 1929 Hampshire. Etheldred's father Robert Ruthven Pym was born at Longstowe Hall, Cambridgeshire. Her father's cousin was Hon. Norman Leslie-Melville who was living at The Cottage in Ketton in the 1881 census. In 1908 Etheldred was the founding enrolling member of the Ketton branch of the Mother's Union.
Children:
Elsie Tweddell - b. 1877 Westminster, London d. 1962 Bournemouth
Hilda Tweddell - b. 1880 Marylebone, London m. John Prideaux Weston Lightfoot in Ketton (John died in Ketton in 1919) d. 1970 Hampshire
John Ruthven Marshall Tweddell - b. 1881 Marylebone, London m. Lilian Mary Jones d. 1952 Bournemouth
Sybil Irene Tweddell - b. 1885 Paddington, London d. 1958 Surrey